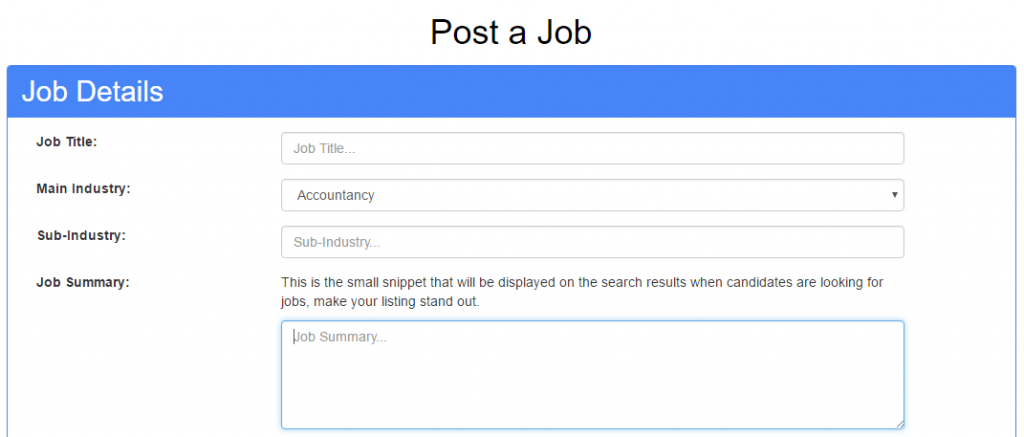 When you are looking to recruit the best candidates for your vacancies, you need to make sure your job listings are up to scratch. The best candidates are very discerning when it comes to who they choose to work with and a poorly written job listing doesn't show your company in the best light. Below we're going to look at how to get the most from your job listing on Tendo Jobs so that active job hunters are encouraged to apply for your vacancies.
Job Title
When writing your job title you do not need to include your company name in here. As all of your job vacancies listed on Tendo Jobs are branded to your company already, job hunters know the job is with you. Likewise, you do not need to include any location information in your job title as we take care of all of that for you to make sure the job hunter knows where the job is based.
When writing your job title, be short and snappy about the job so it's clear to job hunters what is on offer. If something is a junior or senior role, be sure to include this relevant information.
Main Industry
Select which main industry fits best here either for you as a company or the job itself, for which the two may be different. We use a variety of algorithms in the background to ensure job hunters find the relevant jobs they are looking for when using Tendo Jobs so your job vacancies can still be found elsewhere on the website when job hunters are looking for similar and related jobs.
Sub-Industry
Likewise, when selecting a sub-industry, this simply provides a little additional information about how your industry is categorised which is useful to allow job hunters to filter based on this information as they are searching for vacancies.
Job Summary
Your Job Summary information is the small snippet of information that is displayed on the search results when candidates are searching for jobs. Make your listing stand out by including key bits of information to entice job hunters to view your available vacancies. This is only a snippet of information, a few sentences or so as the main information about the job is included in other areas.
Job Description
Unlike what you will likely be used to on other websites that simply have a single area to list all of the information about the job, we do things differently at Tendo Jobs which helps job hunters apply for vacancies much easier and helps you as an employer to filter through applications much faster.
The Job Description section is all about the job itself, what people are going to be doing on a daily basis, what they are responsible for, who they will be reporting into, what are the hours of work, what are the expectations for the job itself. Everything here is about the job and what people will be doing.
Do not include information here about what you want to see from the job hunter who is applying for the job. This information is structured in the other sections when posting a job vacancy. We find that when employers bundle all of the information together under the Job Description section, they receive fewer job applications as a result as their job listings look incomplete and job hunters are put off by this.
Take the extra few minutes to be really clear about what you are looking for from the perfect candidate in the following sections. Additional time spent here will save you countless hours sifting through applications.
Job Type
This is fairly self-explanatory, make sure it is clear if this is a permanent or temporary role that is on offer. Every job hunter's circumstances are different, so it does no-one any favours to list the incorrect information here.
Key Skills
Now we move onto the perfect candidate and what you are actually looking for. For the ideal candidate for the job you have outlined within the Job Description section, what are the key skills that are required to do this job? Think carefully about this and list 5-10 lines of key skills that you require from the perfect candidate.
When the candidate is applying for your job vacancy, they can then prove to you how well suited they are as a candidate based on these key skills that you are looking for. If you leave this information empty or do not enter a great deal of information, then this isn't going to be much use to you when you are assessing each candidate.
For example, instead of being generic such as "Must be Computer Literate", why not be more specific and include information such as;
Must be able to use the Microsoft Office suite of products including Word, Excel and Powerpoint
Must be comfortable dealing with customers on the telephone
Must be able to write to a high level of English in emails
The more specific you can be here, the better quality of job hunter you will get applying for your job vacancies.
Person Specification
Then looking at the individual their self, with all jobs you need to make sure you are recruiting the right candidate for the role. You need to be specific about what you are looking for again. For example you could include information such as;
Must be a confident and outgoing person who is able to interact with customers in a retail environment
Must be an analytical person who is capable of quickly analysing facts and figures
Must be a perfectionist and have a high attention to detail when it comes to quality
Must be a team player
Must be able to work well under your own initiative
Again, be as specific as possible and include as many lines of information that is relevant for the role you are recruiting for. The more information you can include in here, the better quality of job hunter you will get applying for your job vacancies.
Experience Required
Every job requires a variety of experience, whether this is a junior role or a senior role. The experience that people can bring to your organisation can be immeasurable, so be sure to think this through fully.
For example, you could include information about;
Experience of working with the Google Analytics software suite
Experience selling Widgets to the public services sector
Experience dealing with C-Level executives selling enterprise level software
5 years experience manufacturing Widgets
3 years experience working with multi-national brands in the online travel industry space
Be as specific as possible about what experience you are really looking for. Including generic information about the experience required will result in less qualified job hunters applying for your vacancies. The more detail you can include here, the higher quality candidate you are going to get applying for your vacancies.
Salary Type and Salary Amounts
Every job vacancy has been created with some form of budget that has been approved within your organisation. Whether this is a fixed amount or whether this is negotiable to a certain extent based on the candidates that apply for the jobs.
When you are looking to recruit the best talent for your organisation, you need to be providing this information which is why we force you to do so. The best candidates will simply not apply for your job vacancy if you do not include this information as they will believe that you aren't paying enough.
Location of Work
It is important to be specific about where the job vacancy actually is. For example, is this at your offices, or somewhere else? Not all job hunters drive and many job hunters rely on the public transports systems including busses, trams and trains to get to and from work. It is no good a job hunter applying for your vacancy if they can't actually get to the place of work, so be specific here.
Qualifications Required
For many job vacancies, people require qualifications of some sort to get through to the interview stage. Whatever these qualifications are that the ideal candidate should have, make sure to list them here. For example, this could include;
Must have 5 GSCEs at C and above
Must have a degree in a relevant subject at a 2:1 or above
Must have a current HGV licence
Ideally be Google Analytics qualified as an individual, although not essential
Ideally be Google AdWords qualified as an individual, although not essential
Must be ACCA or AAT qualified
The more specific you can be here about what you expect from the ideal candidate, the better the quality of applications you will receive. Spend time to think this through to make sure you are asking for the right qualifications.
Company Perks
The best candidates want to work at companies that offer more than a pay check. Be specific about what your company offers and if there are any specific details related to this job vacancy. For example;
We offer 30 days full holiday per year
We force you to have your birthday off as paid leave
We offer flexi-time to allow people with families and other commitments to work around their life
We offer a company car for the top performing sales executive every month
Make sure you are clear about what your company is offering when it comes to employment.
Employer Job Reference
This is purely a piece of information for your own reference if you need to tie anything back that is posted on Tendo Jobs with your other recruitment or human resources systems.
Closing Date for Applications
It's no good a job hunter applying for vacancies that you have already filled, so be sure to set a realistic closing date for your applications. Remember that if you set a closing date too far into the future, then a job hunter applies and you ignore their application, this doesn't reflect well on you as a business and this job hunter is unlikely to apply for vacancies with you in the future. Keep job hunters happy at all times when you are looking to recruit the best talent for your organisation. Likewise, setting a closing date on your vacancy of next Tuesday also isn't going to give you enough time for your vacancy to be seen by our active job hunters.
Good Example for a Job Listing
To see what a good example of a job listing looks like, view the Senior Java Developer in Blackburn vacancy. You will notice how all of the information outlined above has been included within the listing which in turn helps job hunters to know exactly what you expect of them in the role and what they need to evidence when applying for the vacancy.